Summer 2005-Very sorry to say that because of the Deer problems at the nursery, we are cutting back on the daylily varieties we are growing. We will still continue to grow such old standbys as Stella D'Oro, Happy Returns, and such but many listed below will no longer be grown by us. I will keep this page up for your information. This hurts as this was one of my favorites crops.

Alert!!! www.daylilies.org is for the American Hemerocallis Society, one of the top daylily organizations in the world. Please visit them for the latest information on daylily rust. Daylily rust has just started to be found in New Jersey and will continue to be a problem unless identified and taken care of soon. Look under "News and announcements". Or just go to the "Daylily rust page" for some pictures and descriptions.

Daylilies

are the main course of the perennial garden. Early varieties start blooming with the peonies and iris, and by careful selection your daylilies will continue blooming long after other perennials have stopped for the summer. Many varieties are repeat bloomers. Daylilies are not fussy about soil. They grow well in almost any soil that is not consistently soggy as long as it is amended with extra organic matter. Daylilies even tolerate salt. They are one of the few perennials to thrive near the seashore.

Although daylilies are tough, they do not "thrive on neglect." While they can tolerate drought, poor soil, and weed competition, they reward extra flowers to anyone who gives them a little care. Daylilies love sunshine-the more the better, though they can tolerate up to half a day of shade. A little afternoon shade protects some varieties from "bleaching." They have few pests but thrips, deer, and rabbits can be trouble.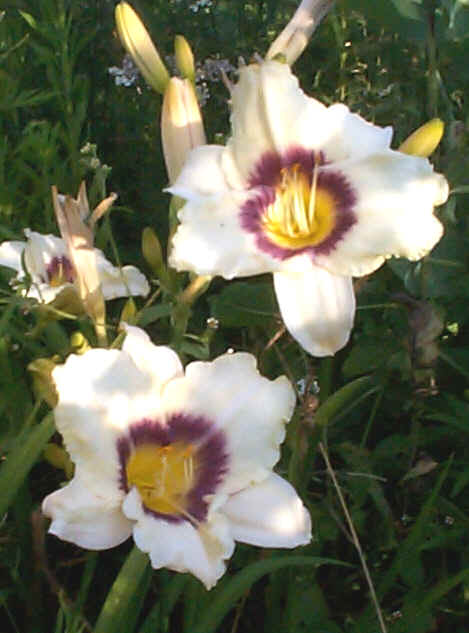 Our Favorite Daylilies and some new introductions-

"Black Plush"

- Velvety near-black 7" spider blooms on sturdy 28" stems. The red slender segments surround a star shaped golden throat. A midseason bloomer that newer spiders havenít improved on.

"Butterscotch Ruffles"- A 3" ruffled flower almost peach in color show up early on this 24" plant and repeat. A good grower that is unique in color.

"Decatur Cherry Smash"- Pink 4" flowers with a plump cherry eye zone. 26" tall with blue green foliage. Midseason bloom with a late season re-bloomer.

"Happy Returns"- 3 1/2" clear lemon yellow flowers start in mid May and repeat until September

"Mini Pearl"- This long season dwarf apricot flower is slightly fragrant on glossy 12" foliage.

"Nashville Star"- Red-orange 3 1/2" blooms with a 6 pointed orange star in the throat begin in early season and re-bloom. This 17" plant is a very fast multiplier, while not being invasive. It can even be used with success as an erosion control.

"Pandoraís Box"- Rich cream 4 1/2" blooms with a striking violet-purple eye above an emerald green throat. The mid to late season blooms come on 19" scapes. This repeat bloomer loves the sun and is lightly fragrant.

"Pardon Me"- Wine red 2 3/4" flowers start mid-late season and re-bloom on 18" scapes. One of the longest blooming daylilies.

"Persian Market"-Large deep magenta rose with a rose red eye. Fragrant blooms begin mid-late season and re-blooms reliably on 27" scapes. A vigorous and strong growing variety.

"Prelude to Love"- Maroon, almost black daylily with 4" blooms with a bright yellow throat. The 18" plants begin blooming early to midseason and re-bloom well.

"Siloam Baby Talk"- 3" pale pink with a rose halo flowers begin in early mid- season with some repeating. This tidy 15" variety can be used as an edging plant.

"Spanish Castle"- Soothing 4 1/2" blooms that are a blend of ivory and yellow with a green throat. A strong grower with deep green, low foliage and blooms starting in early midseason on 26" scapes with a solid re-bloom.

"Stella D'Oro"- 2 3/4" slightly fragrant golden yellow flowers on a 18" scape, this 16" plant blooms from early mid season on. Very popular for it's long blooming period.

"Sunlocket"- One of the first to flower in the spring, blooming until midseason when it takes a breather and then starts up again. A low and compact plant with 3 1/2" bright yellow blooms on 12-16" stems.

"Yellow Bouquet"- Excellent 3" light yellow double blooms on fast growing 18" plants. One of the first to start blooming and goes and goes.