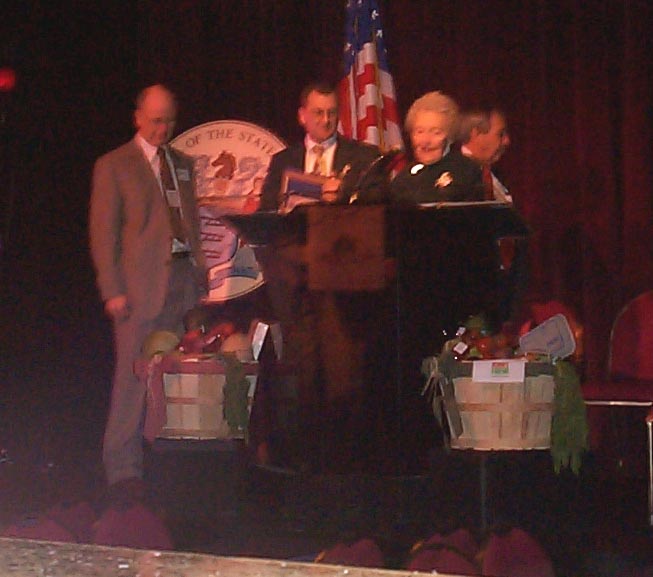 From being born on a farm in Springfield, NJ to marrying a farmer and raising a farm family, a love of agriculture has been a driving force of Henrietta's life. Her whole life has been dedicated to farming and agriculture.

Graduating from Newark State Teacher's College, Henrietta taught school for nine years. Henrietta has always tried to teach the children of our community the importance of agriculture in their lives. Henrietta has been a very active participant in Ag in the Classroom. She has helped give tours of the farm and road stand to more than 3,000 children. She has also been a speaker for many programs of Garden Clubs in the local area and supported them in their work.

Her guidance began in her own house and she has seen great reward from this as her two sons have remained with the farm and now run the farm and stand. One of Henrietta's grandchildren, Jessica Dreyer has just received her degree in Horticulture from Univ. of Mass. and is now working on the farm. Four generations of Dreyers have worked the land. The farm has been in the Dreyer family since 1905, celebrating it's 95th anniversary last July. Henrietta married Henry Dreyer in 1938 when the farm was known as Fair View Manor Farms. When Henry's father retired in 1949, they opened the roadside stand as Dreyer Farms. They had total charge of the operation until 1980 when their two son's took over. Henrietta's role of Secretary/Treasurer continues to this day. She is still very active at the stand. This very successful roadside market celebrated it's 50th year in July, 1999. She is proud to be a member of the Farming community and an active part of New Jersey Agriculture.

Place of birth:

Springfield NJ

Date of birth: May 8 1913

Children:

2 Henry A. Dreyer, Jr., John E. Dreyer, both operators of the Dreyer's Farm's

Occupation of nominee:

Semi-retired farmer

Education:

Newark State College

Memberships in Organizations and Associations:

New Jersey Farm Bureau- Member since 1942, Member of Board of Trustees, Union County Representative since 1968 to Farm Bureau Women's committee, served on Board of Directors for six years. Delegate and alternate to State Farm Convention for eight years. Represented Board of Director at the National Convention for 4 years. Alternate to American Farm Bureau.

Union County Board of Agriculture- Member since 1938, President- 1 term, Membership Chairwomen since 1975.

Member Cranford Business and Professional Women's Association

Nominee's Service to Community, County, State, and Nation:

Active in Cranford's and Springfield's Historical Societies and Trustee of Cranford Historical Society for 22 years.

Member of First Pres. Church of Cranford and has served as Deacon, as well as serving on the Board of Trustee's and on session.

Honors, Awards, Citations conferred upon Nominee: These include Farm Bureau Woman of the Year in 1981, the Arthur West Distinguished Service Award to NJ Farm Bureau in 1991, and Honorary Member, Union County FFA Chapter, 2000.